Program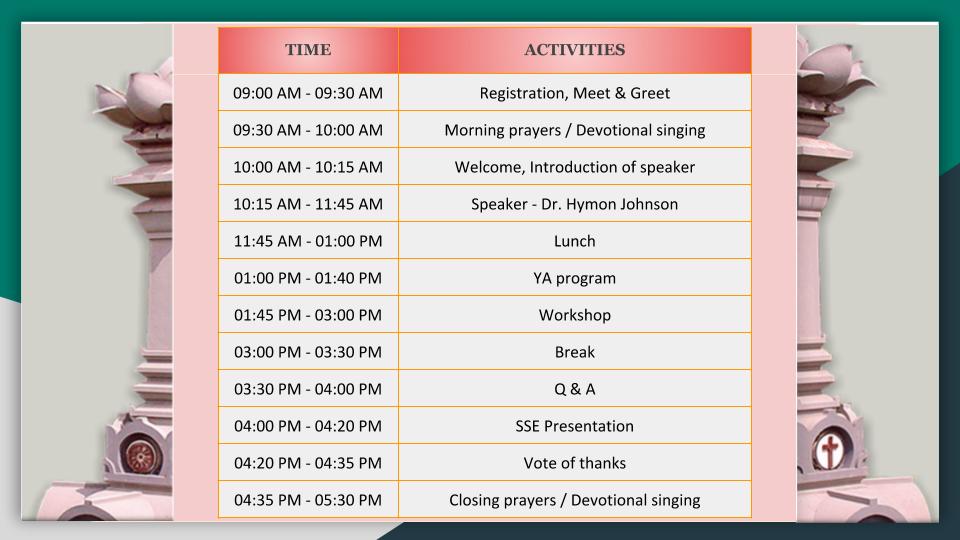 Unison Devotional Singing Program
We will have unison singing as part of the devotional program in the morning session. Retreat devotional program leads will be scheduling practice sessions for unison singing sessions at centers and devotional groups in and around Seattle and Portland. We encourage all retreat attendees to familiarize themselves with unison songs. The lyrics for unison songs are available at UnisonsPracticeSlidesWithAudios. Below are the audio recordings for the unison songs:​
Workshop
We are planning to have 4 groups (Truth, Righteousness, Peace and Love), with 2 moderators for each group. Based on registrations, each registrant will be pre-assigned to a workshop group. The topic will be similar across all 4 groups (based on the retreat theme) however approach may vary depending on the group and moderator's creativity to make it more practical and relatable in our daily lives.
Please look for your group when you register at the front desk and join the group you have been assigned to.​
SSE program
SSE Program will run in parallel to the main program starting 9:30am to 4pm. Lots of activities, including meeting with the speaker have been planned for the day to make it fun experience for them. The activities will be summarized into a video which will be shared with the group at the end of the day.
Parents are requested to drop off the children at the SSE building after registration is complete. Their lunch break is between 11:30am and 12:30pm. There are a number of volunteers to help the SSE kids during lunch, parents are not expected to join them at 11:30am unless they need help.
SSE program will conclude with a presentation as part of the main program (see program sheet above).
Please contact Latha Karanth with any questions you may have.